July 30, 2016
So, gentle readers, this is my farewell. I started writing for TCM's website ten years ago; I joined the Movie Morlocks six years ago. Since my debut here in the fall of 2010 I've posted over 300 blog posts. Between the Morlocks posts and my work on the website, I've contributed significantly more than 500,000 words—the equivalent of something like 6 full-length books.
It has been a phenomenal experience. I've been so grateful for the opportunity to share the stage with my fellow Morlocks—an extraordinary collection of worldclass film writers—and speak to such an engaged, knowledgeable audience. It's been a blast. But I've chosen to resign from TCM so I can spend more time yelling at the raccoons in my neighborhood. Raccoons have got to be an atheist's best argument for evolution—what Intelligent Deisgner worth his salt would deliberately invent hyper-intelligent trash-eating scavengers with thumbs? And really, if after 500,000 words I haven't totally exhausted everything I could possibly have to say about classic movies, you've got to agree I've certainly long ago run out of useful or interesting things to say.
In the spirit of going out as I came in, I'm going to take my final post as an excuse to once again bang the drum in favor of an unloved, underappreciated gem by a slapstick clown. My first post was about Charlie Chaplin's Kid Auto Races, and today I'll go down swinging in favor of Buster Keaton's MGM talkie Doughboys. Yes. Seriously. Come on, click the fold to keep reading –this will be our last time together, let's make it special!
Posted by
Kimberly Lindbergs
on January 29, 2015
"I am not among your ruins. I live in a world of castles, of palaces and mansions. In dreams! My world is invulnerable to your machines." – Jack Cassidy aka the Phantom of Hollywood
It's 1974 and one of Hollywood's oldest and most majestic movie studios is on the verge of collapse. Worldwide Films is deep in debt and in order to stay afloat they've decided to sell vast amounts of land they own that is currently occupied by dilapidated sets and abandoned sound stages. As bulldozers and wrecking balls begin to lay waste to decades of film history a lone cloaked figure arises from the devastation to take revenge on hapless vandals and careless construction workers. This masked 'Phantom of Hollywood' (Jack Cassidy) is determined to be classic cinema's avenger and he kidnaps a studio executive's daughter (Skye Aubrey) for leverage. But his flowery dialogue and medieval weapons are no match for the greedy studio moguls (Peter Lawford and Broderick Crawford ) eager to make a quick profit from property sales.
Unfortunately for classic film fans THE PHANTOM OF HOLLYWOOD (1974) isn't 100% invention. In fact, many aspects of the telefilm's plot are taken right from news headlines at the time. The fictional Worldwide Films studios are actually a stand-in for the world renowned Metro-Goldwyn-Mayer studios, which began systematically selling off its backlots in the early 1970s while auctioning off costumes and props from the beloved films they once produced. Director Gene Levitt (RUN A CROOKED MILE; 1969, NIGHT GALLERY; 1971, KOLCHAK: THE NIGHT STALKER; 1975) and writer George Schenck (KILL A DRAGON; 1967, MORE DEAD THAN ALIVE; 1969, FUTUREWORLD; 1976) managed to capture the appalling demolition of MGM and turn it into a melancholy made-for-TV movie that borrows generously from Gaston Leroux's The Phantom of the Opera. But instead of a vengeful musician living underneath a Parisian opera house, THE PHANTOM OF HOLLYWOOD features a vengeful actor living underneath the ruins of what was once Mrs. Miniver's house as seen in William Wyler's 1942 film.
Posted by
Richard Harland Smith
on December 31, 2014
A young man with artistic ambitions but no actual talent flees Manhattan in the not-too-distant future and hops a shuttle to the moon in search of true love.
Cast: Zach Galligan (Adam Beckett), Apollonia van Ravenstein (Mara Hoffmeier), Lauren Tom (Eloy), Sam Jaffe (Father Knickerbocker), Paul Rogers (Hugo), Bill Murray (Ted Breughel), Dan Aykroyd (Buck Heller), Imogene Coca (Daisy Schackman0), Anita Ellis (Aunt), Mort Sahl (Uncle), Jan Triska (Architect), Eddie Fisher (Himself), Avon Long (Steward), Calvert DeForest, King Donovan (Passengers), Lawrence Tierney (Carriage Driver), Walt Gorney (Stage Manager), Tom Schiller (Mara's friend), Raynor Scheine (Hillbilly) Marc Alderman (Lifewalk 5000 Conceptual Artist). Director/writer: Tom Schiller. Cinematography: Fred Schuler. Music: Howard Shore.
Color/B&W, 82 min.
Showtime: Saturday, January 3, 11pm (PST), 2am (EST).  [...MORE]
Posted by
Kimberly Lindbergs
on August 22, 2013
One of the most notorious affairs in Hollywood history was the romantic liaison between Clark Gable and Joan Crawford that blossomed on the backlot of MGM. The two stars appeared in no less than eight films together and five of them (DANCE, FOOLS, DANCE; 1931, LAUGHING SINNERS; 1931, POSSESSED; 1931, CHAINED; 1934 and STRANGE CARGO; 1940) will air on TCM this coming Sunday (Aug. 25th) during the network's ongoing Summer Under the Stars celebration. Today I thought I'd share some of Crawford's memories of working with Gable as well as some of her personal observations about the actor who may have been the only man she ever truly loved.
Posted by
R. Emmet Sweeney
on April 10, 2012
Edward L. Cahn directed 11 films in 1961, and You Have to Run Fast was one of them. MGM recently released it on their DVD burn-on-demand service in a crisp transfer, making it easy to appreciate the thriller's tight construction and  open-air location shooting. The AFI Catalog lists no production dates but it was undoubtedly completed in a week or two before Cahn and producer Robert E. Kent moved on to the next programmer (17 of which are now streaming on Netflix). I was tipped to Cahn's work by Dave Kehr's "Further Research" column in the November/December 2011 Film Comment, where he says, "Cahn…seemed to embrace the aesthetic of speed with a passion and personal commitment not always apparent in the work of his more feverishly productive Poverty Row peers." Cahn reportedly filmed "an astonishing 40 setups a day", but as You Have to Run Fast clearly shows, they flow with an ironclad visual logic, and establish a moral equivalency between a mob boss and the innocent he is tracking down.
Posted by
Kimberly Lindbergs
on December 15, 2011
This is the second half of a two part list I've compiled featuring my favorite film related books of the year. As I mentioned in my previous post, a surprising number of good books were published in 2011. From lush coffee table gift books to intimate autobiographies, the range of interesting reading material I came across was both surprising and thought provoking so I thought I'd share some of the highlights. You can find the first part of my list posted here: Favorite Film Related Books of 2011 (Part I.)
Posted by
Moira Finnie
on May 11, 2011
Please Note: In Tribute to Jackie Cooper, on Friday, May 13th TCM will broadcast nine of the actor's films, which are listed here.
Jackie Cooper, who was an Oscar nominee for Best Actor in a Leading Role when he was only nine,  died on May 3rd at the age of 88. His shy smile, seemingly artless candor, and innate ability to suggest an overwhelmed child's desire to make everything all right in the world continues to make those who stumble on his films smile in recognition.
If your most vivid mental image of Jackie Cooper is still as one of the ragamuffins in Hal Roach's The Little Rascals, or the boy pleading with The Champ (1931-King Vidor) to rise again, or the privileged child befriending a kid from Shantytown in his Oscar-nominated performance in Skippy (1931-Norman Taurog), that's understandable. Despite the fact that his early performances are eight decades in the past, his wonderfully natural portrayal of boys on film are still painfully fresh and have an evergreen realism at their core. In the darkest years of the Great Depression audiences felt a connection to that innocent, lion-hearted kid on screen whose life wasn't going any more smoothly than their own. I like Shirley Temple, Jane Withers, and Freddie Bartholomew very much. I've been astounded by Mickey Rooney's seemingly boundless talent. Yet to me, Jackie Cooper was one of most natural child actors, even though he had a different, understandably complex perspective on his own work. "I wasn't great," he claimed. "The directors were great. I was just a kid who did what he was told. And what I wasn't told to do was done for me."
His son, Russell Cooper, commented that his father "was a fascinating guy who really did everything, from all different aspects of the business. You can't really say that about many people." Looking back at Cooper's long life, when he acted in over a hundred movies, plays and television shows, and directed and produced over 250 TV projects, it seems that he may have done everything but sweep up the stage–and, as an apparently down-to-earth person–he probably did that at least a few times.
Much of Cooper's acting has a similar, recognizable quality, as he personified a kind of ragged moxie laced with a guileless intensity. Even when the stories were schmaltzy, he was not. As he grew up, and seemed likely to succumb to the neglect and adulation that early fame often breeds, he eventuallyapproached his later problems with a similar ingenuousness as he struggled to become an adult in real ways. As he later pointed out about his childhood career, "I was trained to be a professional, not to be a person."
Posted by
Moira Finnie
on March 23, 2011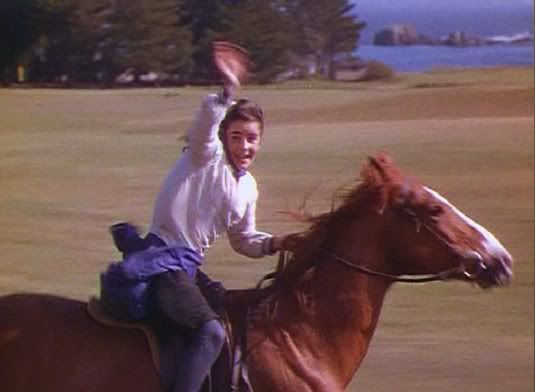 "I want it all quickly 'cause I don't want God to stop and think and wonder if I'm getting more than my share." – Elizabeth Taylor as Velvet Brown in National Velvet (1944)
A blur of thousands of words and pictures began to tumble out of every medium as soon as news of Elizabeth Taylor's death at age 79 was announced on March 23rd. I know that the most noteworthy features of this performer's life are the many adult roles she played with skill (on screen and off), her remarkable beauty, durable, often deliciously excessive glamour, the ups and downs of her not-so-private life, and ultimately, her pioneering charity work to assist those with AIDS. People will naturally mention her two Oscars. One was awarded for her tart with a heart in the often ludicrously steamy Butterfield 8 (1960)–making up for the Academy's neglect for her fine work in Cat on a Hot Tin Roof (1958)–and her well-deserved Best Actress Award for the harrowing and truthful characterization in Who's Afraid of Virginia Woolf? (1966).
To me, however, Elizabeth Taylor is cherished in memory for her extraordinary work near the beginning of her career, when she gave herself completely and unselfconsciously to the role of Velvet Brown, a dreamer, whose love of horses seems to border on a pagan devotion deeper than civilized analysis can ever explain away. All of the entertaining blather surrounding this "last great star" falls away when watching National Velvet (1944), a beautifully crafted product of the studio era at its height. This role prompted the already accomplished rider (Elizabeth Taylor's father had taught her to ride at the age of 4) to train rigorously each day and, with the guidance of her ambitious mother Sara, prompted the tiny girl to try to grow three inches to be an acceptable height for producer Pandro S. Berman (lifts in her shoes and some natural growth helped a bit).
Bewitched by the equestrian allure of the Bagnold story, Taylor plastered her room with horse-related images and paraphernalia. The slight girl also sustained a back injury during riding for this movie that would plague her for the rest of her life. Despite any of the background pressures, this film appears to be one of the last times that the then 12-year-old actress seemed so blissfully unaware of her own "rapturous beauty," as critic James Agee acknowledged in his review of the film at the time of its first release. Perhaps the openness of Taylor's heartfelt performance in this movie was the result of careful tutoring or simply reflected her own well-documented love of animals, but I suspect that it may also have been because, as an outstanding part of a strong cast, she was treated for what she was rather than for how she looked, allowing her inner spirit to soar on screen. As an adult Taylor later tried to explain it, "National Velvet really was me."
Posted by
Kimberly Lindbergs
on March 10, 2011

Photographer Ruth Harriet Louise in her studio with actress Joan Crawford
You might not be familiar with her name but you're probably familiar with her work. Ruth Harriet Louise's glamorous photos of classic movie stars have graced countless magazines and book covers. Her photos helped launch the careers of many beloved actors and they offered fans an intimate look at some of Hollywood's most celebrated icons. Her impressive portfolio is still in circulation today and if you take a quick look around the TCM website you're bound to come across one or two of Louise's famous portraits starring back at you.
Posted by
R. Emmet Sweeney
on February 8, 2011
With little fanfare, MGM re-started its moribund DVD burn-on-demand service last month. MGM originally offered 27 titles through Amazon's CreateSpace service in early 2010, only to encounter complaints about cropped aspect ratios. Then last November, it was quietly announced that they were switching to Allied Vaughn's MOD technology, and making it available to a variety of retailers (now including Movies Unlimited, Oldies.com, Screen Classics, and Amazon). It's unclear whether the original MOD titles released in non-anamorphic or cropped versions (like Cold Turkey), will receive updates, but to be safe, I'd stick to the new releases and check the Home Theater Forum for news. The initial release slate is 50, with "an expansion plan to release more than 400 new-to-DVD titles within the next 18 months" (press release here). The first batch of these were rolled out in January, so to get a sense of this promising new venture's quality, I picked up director Phil Karlson's caustic film noir, 99 River Street (1953).
(Note:  The For the Love of Film Noir Blog-a-thon, hosted by Ferdy on Films and The Self-Styled Siren, takes place Feb. 14th – 21st to raise money for the Film Noir Foundation's efforts to restore Cy Endfield's The Sound of Fury (1950). I'll be contributing next week, so consider the following a teaser.  Donate here.)
As of November 1, 2017 FilmStruck's blog, StreamLine, has moved to Tumblr.
Please visit us there!
http://filmstruck.tumblr.com/tagged/streamline-blog
 Streamline is the official blog of FilmStruck, a new subscription service that offers film aficionados a comprehensive library of films including an eclectic mix of contemporary and classic art house, indie, foreign and cult films.
Like us on Facebook