Please Note: In Tribute to Jackie Cooper, on Friday, May 13th TCM will broadcast nine of the actor's films, which are listed here.
Jackie Cooper, who was an Oscar nominee for Best Actor in a Leading Role when he was only nine,  died on May 3rd at the age of 88. His shy smile, seemingly artless candor, and innate ability to suggest an overwhelmed child's desire to make everything all right in the world continues to make those who stumble on his films smile in recognition.
If your most vivid mental image of Jackie Cooper is still as one of the ragamuffins in Hal Roach's The Little Rascals, or the boy pleading with The Champ (1931-King Vidor) to rise again, or the privileged child befriending a kid from Shantytown in his Oscar-nominated performance in Skippy (1931-Norman Taurog), that's understandable. Despite the fact that his early performances are eight decades in the past, his wonderfully natural portrayal of boys on film are still painfully fresh and have an evergreen realism at their core. In the darkest years of the Great Depression audiences felt a connection to that innocent, lion-hearted kid on screen whose life wasn't going any more smoothly than their own. I like Shirley Temple, Jane Withers, and Freddie Bartholomew very much. I've been astounded by Mickey Rooney's seemingly boundless talent. Yet to me, Jackie Cooper was one of most natural child actors, even though he had a different, understandably complex perspective on his own work. "I wasn't great," he claimed. "The directors were great. I was just a kid who did what he was told. And what I wasn't told to do was done for me."
His son, Russell Cooper, commented that his father "was a fascinating guy who really did everything, from all different aspects of the business. You can't really say that about many people." Looking back at Cooper's long life, when he acted in over a hundred movies, plays and television shows, and directed and produced over 250 TV projects, it seems that he may have done everything but sweep up the stage–and, as an apparently down-to-earth person–he probably did that at least a few times.
Much of Cooper's acting has a similar, recognizable quality, as he personified a kind of ragged moxie laced with a guileless intensity. Even when the stories were schmaltzy, he was not. As he grew up, and seemed likely to succumb to the neglect and adulation that early fame often breeds, he eventuallyapproached his later problems with a similar ingenuousness as he struggled to become an adult in real ways. As he later pointed out about his childhood career, "I was trained to be a professional, not to be a person."
Off-screen, Jackie Cooper was the son of an Italian mother, Mabel Leonard Cooper, a pianist who traveled on the vaudeville circuit after she had been abandoned by the boy's father, and who later worked at Fox Studios as a secretary. Having little choice, his mother left the small boy with his physically abusive grandmother while she worked. The child was soon dragged to back lots and casting offices all over LA until he found work as an extra. At the age of three he was in show biz. After his winning manner, blonde hair and hazel eyes set in his mobile face were spotted by Hal Roach studios, they put him under contract for  The Little Rascals shorts. He appeared in 15 episodes of the series between 1929 and 1931, until he graduated to what was perceived as "the big time" when his uncle by marriage, veteran film director Norman Taurog, cast him in Skippy. In one of many inequities the boy would only understand later, Paramount paid Hal Roach $25k for the youth's services on loan. Cooper was paid $50 a week.
In the rarely seen Skippy (1931), based on a popular comic strip by Percy Crosby, the eight-year-old Cooper shone in a then unusual feature film from Paramount that glimpsed the world almost entirely from a child's viewpoint. Today, comic book heroes on film are usually muscle-bound super-heroes, but in 1931, pop culture enshrined a small, disobedient boy.  The first scene consists of a beautiful tracking shot up the stairs to Skippy, who is sleepy and still in bed. Feigning compliance with his mother's calls from downstairs to get up, he responds to her queries about getting dressed with his eyes half-closed, but with a casually worded question of his own about which shirt he should wear–"this one?" or "that one?" as he raises one arm after the other lazily. A sharp order from his father finally convinces him to rise, but this scene sets the tone for Skippy's relationships with the larger world. He goes his own way, complying when he must, contemptuous of those kids who toe the line, while he nurtures a wonderful independent streak and the kind of fearless love of freedom that the inexperienced have known.
In this childish point-of-view, three dollars seems like a million, a sweet mutt off the street appears to be a noble companion, and adults have no clue about what constitutes a life and death issue in the life of a small child. Despite having to wear an exaggerated costume for the character, Jackie transcended the material, and behaved much more like a kid who was often contrary, but, when faced with an intractable problem, became a very worried little boy–and one for whom a heart aches, even today.
The truthfulness of his character was in marked contrast to many of the "professional children" who surrounded him, (especially Jackie Searl and Mitzi Greene, whose characters' artificiality highlighted his naturalism in this film). Skippy is presented as the not strictly obedient son of a pompous, starchy doctor who instructs his seemingly cowed son to stay away from the reportedly diseased-ridden Shantytown area. Almost immediately, the boy finds his way there, excited to be amid the raggedy hubbub of humanity tumbling out of the ramshackle houses and onto the dusty streets. Gazing appreciatively at this messy scene teeming with grubby life just a few blocks from his well-appointed home, Skippy sighs "Ain't it elegant?"
Soon he encounters a smaller but pugnacious boy named Sooky (Robert Coogan, Jackie's brother), who picks a fight with him over territory and then becomes his companion. Sooky is a poor kid whose widowed mother lavishes attention and affection on him; in marked contrast to the primness of Skippy's rather proper mother. As the story follows the evolution of their friendship from shared small pleasures to their mutual efforts to rise above life's complications, Skippy makes every effort to avoid disobeying his parents, technically. The story centers around efforts to get Sooky's unlicensed dog, Penny, out of hock after he is picked up by a dogcatcher (the appropriately named "Harley Nubbins," played by Donald Haines with snarling nastiness).
When Nubbins tells the boys they need three dollars to spring the mutt, things take an imaginative turn. Told not to touch his bank (but not the money inside!) Skippy opts to lasso the small strong box with string to carry it around until he can smash it open. He fruitlessly slams it in a gate, (breaking the gate in the process), repeatedly tries to have a truck run over it, until the money–30 cents short of the $3 needed–is accessible. Eventually the boys find that a previous issue (when the dog catcher's windshield "innocently" met a rock) causes the boys to double their efforts to replace the paltry money once again. Ultimately the unexpected turn that the story takes causes Skippy to try to distract his shattered friend Sooky from his sorrow during another long tracking shot of the boys stumbling down a road toward home.  Cooper's agonized efforts to cheer his friend are among the best moments of his performance, but, legend has it, for the scene when a wave of grief finally washes over Skippy when he is finally alone, the tears he sheds were all too real.
A series of incidents on the set when the young actor was required to weep in three scenes would be seared in Cooper's memory. Shooting in San Bernardino at the end of a long, hot day, Jackie was told by his grandmother "Be a good boy and cry." He couldn't. Norman Taurog lost his temper, yelling at the boy, calling him "a lousy, ham actor" and arranging to have another child dressed like Skippy appear on the set–waiting to play Jackie's role, apparently. Instant tears ensued. By the time Jackie was asked to cry for the second time, he was so tense and resentful, no tears came, but the child became intensely angry. After much sturm und drang, his grandmother took Cooper's dog, who was tied up behind the camera, leading it away to the car, saying she was going to take him to the pound. A security guard drew his weapon and with a nod to Taurog, went out toward the grandmother's car. The director said this was the end. If the actor didn't do the scene immediately, it would be the end of the dog. Hysteria followed, leading the director to try to calm the boy down before the scene could be completed. After the moment was finally captured on film, the boy went home to his mother, so crushed by his day's experiences that he could not eat, sleep or stop crying. His apprehension over the final emotional scene on the schedule mounted as the days went by. Finally, in the last lachrymose scene he was faced with, Cooper's mother, who had taken the day off from her job, was present on the set. She calmly explained the emotional atmosphere of the scene, talked to Jackie about the events that had happened to Skippy and Sooky that led up to this moment, and went over the lines with him prior to the scene. There were no threats and no manipulation, but just a careful analysis of the scene that produced sympathy in the boy for the characters. Real tears flowed without the psychological shenanigans. Norman Taurog won the Academy Award for his direction of Skippy. Looking back fifty years later, Jackie Cooper said "I think he deserved it."
As a result of this role, Cooper became a very popular movie star. As a valuable commodity whose normal childhood illnesses or cuts and scrapes could delay filming, costing thousands of dollars a day, he was not allowed to roller skate, play football (despite what it showed in the MGM short, Jackie Cooper's Christmas), ride a bike, or walk unattended on a street, much less cross it by himself (in part for safety reasons, but perhaps also because kidnapping became an unspoken fear after the Lindbergh case).  His loathsome grandmother would slap him when he made a mistake on a movie set. Walter Winchell asserted in print that Cooper was a midget whom he had seen singing on the vaudeville circuit a decade before, (three years before Jackie was born). Amazingly, despite everything that happened to him during his childhood career, Cooper survived. Part of the reason for this may stem from his relationship with his mother, a physically frail woman whose rapport with her son helped him for the rest of his life. "My mother was more like my sister," Cooper recalled late in life. "She had been making money on the road, playing piano for performers in vaudeville. When MGM bought me from Hal Roach, my mother came home and stayed home. And, as I said, I was growing up, she was more like a sister to me. We had that kind of relationship. She didn't raise me to be afraid of her. She raised me to respect her."
One memorable encounter stood out with someone who did not–in the boy's eyes–show his mother proper respect. Cooper remembered "Mr. Mayer very well. He sort of liked to be the father – no, he liked to be treated like you thought he was Daddy, but he didn't treat you like Daddy at all." When I was at MGM, I remember a couple of times my mother and I were sitting across from Louis B. Mayer, behind his desk, giving orders on this and that."
When a dispute arose, Mayer yelled at Cooper's mother, and something about the tense and threatening conversation made the boy burst into tears. Mayer and Cooper's mother reconciled their disagreement quickly. "Then," Cooper recalled when he was in his 80s, "L.B. grabbed me by my shirt under my chin with his fist. 'Don't you ever come in here and cry again! You hear me?' From then on, my mother kept me away from him as much as possible." Apparently, Mayer was the only one who was allowed to shed tears in his office.
Working at MGM until 1937, Cooper appeared in several films that have become classics, including The Champ (1931) and Treasure Island (1934).  King Vidor's The Champ may be Cooper's best known film today, celebrating the relationship between a father and son as the pair are buffeted by fate in a cold world. Beery, who won an Oscar for his role as a washed-up, unruly leviathan of a boxer, had wonderful chemistry with Cooper on screen, especially in those scenes when the pair appear to be improvising while Beery works out, or expresses self-doubt. Invariably, Cooper comforts his father, giving his life shape and meaning it would not have had without him. The now apparently iconic scene at the end of the film when Cooper believably breaks down is not a particular favorite of mine. I prefer the moments when Cooper still looks as though he is behaving spontaneously and childishly–not aware–it seems, of the camera, but appeared to be comfortable in his own skin.
[wpvideo 3lbXAEue]
The formula mixed so deftly by King Vidor and screenwriter Frances Marion in The Champ became the template for the three films that followed, pairing Cooper with the irascible Wallace Beery, in The Bowery (1933), Treasure Island (1934) and O'Shaughnessy's Boy (1935). And in each film, the boy would need to cry. Mr. Mayer insisted on that just as emphatically as he often imposed a happy ending–even on Robert Louis Stevenson's Treasure Island, allowing Beery's lovable, piratical Long John Silver to go free. Off-screen, according to Cooper, he never knew a comfortable moment with the actor. The fatherless Cooper usually liked doing movies in which he worked with men. The older Chic Sale in When a Feller Needs a Friend (1932) and Lewis Stone in Divorce in the Family (1932) had treated the boy with respect and a fatherly kindness. Richard Dix, who rescued Cooper from a fiendish coke dealer played by Boris Karloff in Young Donovan's Kid (1931) had sparred with the boy, and the two enjoyed a macho camaraderie. Eager to be friends with his co-star, Cooper was disappointed to discover that the talented Beery, who was  popular with audiences for decades, appears to have been monumentally insecure. Naturally a demonstrative and affectionate kid, Cooper's attempts to be close to Beery, whom he initially admired, were immediately rebuffed.
While filming The Champ, Beery would tell Cooper to do a scene one way after Vidor had instructed the boy in the proper emotion he wanted to see. With the inevitable scenes in each script of every movie that would call for Jackie to weep, (something that the maturing actor found increasingly difficult), Beery would hold up production by disappearing for long periods to his dressing room, the powder room, anywhere to escape from his job. On the set of The Bowery, Cooper became very friendly with George Raft, eliciting a strangely jealous reaction from Beery. The older actor, who apparently thought he was "losing" Jackie Cooper's fealty to this other leading man, would mention that he had heard of Raft's alleged underworld ties from those in the know.
"Wallace Beery [became] sick and tired of me," said Cooper. "He didn't want to work with the kid anymore. I think he was a little jealous of all the reviews. Very often the reviewers liked me a little better than him. I didn't like him. He was mean to me. He didn't like kids. If I was on his lap in a scene, the minute the director said, 'Cut,' he'd push me right off, even if it made me fall on the floor. 'Get the hell off me!'"
"When I had made some kind of a name for myself, after The Champ and Treasure Island, our agent got me booked into some theaters. My mother would play the piano for me and I would tap dance and sing and talk to the audience. We were buddies, working together. She made it fun."
Despite the pressures of being a child star, Cooper eventually becamea stronger person than might have been expected. As he grew older, he was no longer quite "America's boy." Cuteness gave way to adolescence, a period when, as he later said, "I became a teenager, [and] MGM used me a little too much, and the pictures started making less and less money." No longer movie star cute, but with an appealing face and manner, Cooper's brow became more furrowed, and his increasingly curly, no longer blonde hair, pug nose and jutting chin were regarded as less photogenic.
At the same time he was changing physically, his social life with his contemporaries at MGM, who included Mickey Rooney, Judy Garland, Freddie Bartholemew, Bonita Granville and others, became more important to him. Cooper was happily seduced by Joan Crawford at 17, he was uneasy over his inability to help Judy Garland when they dated as teens, and he was perceptive enough to see some of his own faults in the troubles of fellow child actors. By 1937, when Louis B. Mayer terminated Cooper's contract with the studio, the boy's earnings were estimated to have topped $600,000. Unlike many other parents of child performers, Mabel Leonard Cooper had carefully saved and invested her son's money, allowing him to enjoy a bit financial freedom when starting his creative life as an adult–though his uncle, Norman Taurog, maintained some control over Cooper after his mother's demise.
Working outside of MGM, three of Cooper's more interesting films deserve mention. These films included Monogram's fairly ambitious imitation of Dead End, called Boy of the Streets (1937-William Nigh). As the son of Marjorie Main, (who was also in Dead End) Cooper experiences disillusionment with his ne'er-do-well father (Guy Usher), and proves himself a capable performer, giving considerable tenderness as well as hardness to his junior tough guy. Cooper, who just a year before had appeared quite boyish in a similar film, The Devil Is a Sissy (1936-Woody Van Dyke), was convincingly corrupt but redeemable as the leader of a street gang in the slums.  The film could not completely escape from the limitations of the script and the production values, though Cooper's zest for his role still makes it an engaging movie.
White Banners (1938-Edmund Goulding) from Warner Brothers gave Cooper a chance to appear with some very good actors, including Claude Rains, Fay Bainter, James Stephenson and Kay Johnson–as well as Bonita Granville as his romantic interest. The coltish intensity and confusion that Cooper conveys while working with Claude Rains on the invention of a refrigerator (yes, you read that correctly) stands out among the sensitive performances that Goulding evoked from the cast. The director was one of a few who encouraged Cooper to abandon the tricks and techniques he had learned as a child star. Instilling him with some confidence in his own gifts, Goulding told Jackie that he should think of himself as "a leading man." As such, he needed to use his imagination and intellect to create a character. Not quite melodramatic enough to be a soap opera, the understated performances that surround the adolescent Cooper help to bolster the film's subversive observation of everyday lives lived in quiet desperation. It is also helped by the detailed amount of attention it pays to everyday events in a small community's quotidian life. A sleigh goes by silently in the snow, a young girl goes skating and falls in the ice, a woman loses her ability to concentrate on her homemaking–life gets away from people for a time in this small scale story, yet the minor triumphs and victories of the characters has made this movie a favorite for me. (Fay Bainter received an Academy Award nomination as Best Actress for this role and, in the same year, she won a Best Supporting Actress Oscar for Jezebel).
Syncopation (1942-William Dieterle) from RKO is a kind of proto-noir, filled with German Expressionistic lighting while it celebrates the origins of jazz in New Orleans and Chicago and the emergence of swing. Jackie Cooper's homeless musician meets Bonita Granville, a young woman who has already been enchanted by her first introduction to jazz. Cooper and Granville soon have a  romance with the call of music distracting them (and us) from the slight complications of the plot. Cooper's self-destructive coronet player may have been influenced by Bix Biederbecke's brief life, though the plot involving him with Granville (and her father, Adolphe Menjou) is ultimately peripheral to the musicianship on display from Benny Goodman, Charlie Barnet, Gene Krupa, Harry James, Jack Jenny, Joe Venuti, and Alvino Rey, with a particular highlight featuring Connee Boswell singing. Don't miss the mustache on Jackie Cooper's baby face. That's the ubiquitous but often uncredited character actor, Frank Jenks as the MC greeting Boswell:
[youtube=http://www.youtube.com/watch?v=gQcTiUq5TlE]
The death of Cooper's mother just before Pearl Harbor came as a blow. Cooper's enlistment in the Navy took him completely out of Hollywood for several crucial years. While he did encounter officers and others whose enmity toward him was based simply on his renown, eventually Cooper did serve until the end of the war in the South Pacific. One incident during the war, when the 21-year-old Cooper provided alcohol for a party attended by underage girls as well as sailors received nationwide attention. While studying in a Naval officer's training course at Notre Dame in South Bend, Indiana, Cooper and three others were charged with contributing to the delinquency of two minors. They were all acquitted, and the judge criticized the behavior of the teenage girls from the bench. Despite this turn of events, Cooper washed out of the V-12 program, in large part because of his missed classes. The actor later recalled that his study habits, neglected for years while he pursued his movie roles, were inadequate when trying to apply himself to the complex knowledge required of an officer. By the end of the war, Cooper won his commission, and for decades after the war, remained closely affiliated with the service as a Reserve Officer, ending his career as a Naval Captain (his later television series, Hennesey, from 1959-1962 was set in the Navy).
After a stint in the Navy during WWII, he returned to Hollywood to find himself a 23-year-old has-been. Without much formal education, and little experience in the real world, Cooper felt uprooted after his mother's death (he would later say that tending to his needs as a child star 24 hours a day "had killed her"). The young man waited for the phone to ring and jobs to materialize. Discovering that younger men were competing for his jobs came as a shock, since he was used to being the youngest person on a movie set. "I was confused; insecure young man, he recalled. "I became bitterly resentful of people who used to slap me on the shoulder and say, "I remember you in 'The Champ'–you were great."
"Losing out on a role to Robert Walker changed my attitude. When I saw the picture on the screen I knew why. Although I was 25, I was even too immature to play a 21-year-old."
With the encouragement of mentors such as John Garfield and Keenan Wynn, Cooper moved east, worked in Summer Stock and New York theater. "I knew if I wanted to make acting my life's work, I had better get the tools. " Fortunately, he moved to New York, learned his craft on stage as an adult, acted in live television, and did two hit series that also happened to be fairly intelligent–The People's Choice and Hennesey, a comedy set in the Navy (Cooper served in the Naval Reserve for decades).
Younger generations in the '70s came to know Cooper as Perry White in the Superman: The Movie (1978) as well as four that followed, but, as Jackie explained to one reporter, he had "no desire to be his generation's Charles Bickford," noting that "sooner or later, you feel a little silly as an actor." Astutely, Cooper had begun to work toward becoming a director and producer behind the camera for years, beginning with his careful observation of directors such as Taurog, Richard Boleslawski, and Victor Fleming when he was a child. After some 35 years primarily in front of the camera in 1964, Cooper accepted a position as the head of Columbia Pictures Screen Gems TV division, a position he found challenging for a time.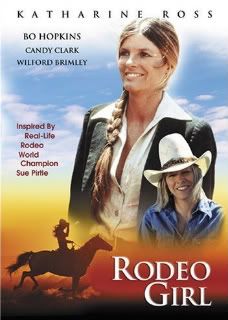 Outside of work, Jackie Cooper was involved with playing the drums, (if you saw the jive-happy Syncopation (1942), you know he was no slouch. He even cut an instrumental album in 1960), horse training, flying, car racing or spending time with his children and Barbara Rae Kraus, the last of his three wives, to whom he was married for 55 years, until her death in 2009, (Cooper called her the "world's most understanding woman").
While he made occasional appearances on variety shows and even made an odd movie or two (1971′s The Love Machine, anyone?), Cooper's work life primarily focused on his efforts as a producer and a television director (M*A*S*H, The White Shadow, The Rockford Files). He won two Emmys as a director. The first was for Outstanding Directing in Comedy for M*A*S*H in 1974 and the second was for Outstanding Directing in a Drama Series for The White Shadow in 1979.
Jackie Cooper also directed one of my favorite television movies, Rodeo Girl (1980), in which a luminous Katharine Ross played a young woman, (based on rodeo champion Sue Pirtle) who trains to compete on the rodeo circuit. One of the few films that showed the distaff side of the rodeo world, the movie–not surprisingly, given Cooper's own commitment to work, detailed the exhilaration that can be found in developing skills and mental and physical discipline. Even as the character strains her body and her marriage it is clear that her experiences are life-changing off the horse as well. The film's characterizations of rural people of all ages shirks easy stereotypes, allowing each character more individuality as their story plays itself out, with no actors confined to villain or hero status when faced with hard choices. The detailed attention may also reflect the director's interest in horses, an animal he trained and cared for when retired, often showing up at dawn to help tend to race horses near his Hollywood home.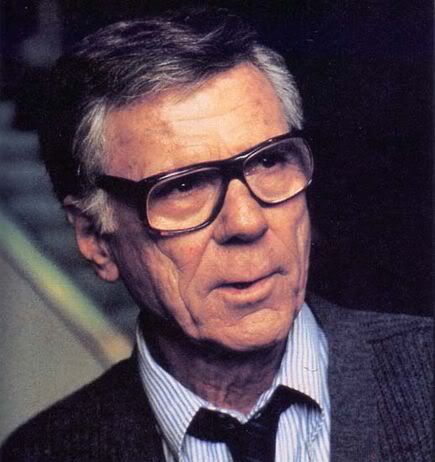 While he inevitably found himself directing children, Cooper tried to be honest with them, never manipulative or demanding. Privately, he was adamantly opposed to children as professional actors, which led him to prevent his eldest son from signing a contract with MGM in the 1950s. Cooper encouraged parents of children he encountered in his later career that their offspring ought to "be out playing ball. I tell parents that if they love their kid to get him out of show business. I think it's awful."
As he explained in 1981 to a reporter, "Most of us from those days are gone or dead or hiding. We were used, then no longer wanted. You see, none of us was taught how to have friends, how to feel like the other guy, how to compete–which is what this society is all about."
Jackie Cooper was also a man of conscience outside his immediate work. In 1978, when the Hollywood Chamber of Commerce denied a request from Actor's Equity for actor and singer Paul Robeson (The Emperor Jones, Show Boat) to be given a star on Hollywood's Walk of Fame, Cooper insisted that he wanted his own star removed from the famous sidewalk if he was not honored as well. "They claim Robeson was not worthy of a star because he didn't win any Oscars or Emmys and didn't have that much of a film career, Cooper told the Associated Press. But I walked down Hollywood Boulevard, and I can hardly recall 3 out of 5 names, and I've been around 50 years. If he's not worthy of having a star, then I'm not worthy either and they can take mine off."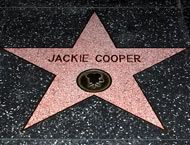 Robeson (1898-1976), a Promethean talent as a singer and actor in the first half of the 20th century, was an African-American pioneer in the theater, film and record industries, but his affiliations with radical politics tainted his position in American life for decades. One year later, under considerable pressure from Los Angeles Mayor Tom Bradley, the Screen Actor's Guild and Mr. Cooper's relentless championing of Robeson, the actor-singer was given his star.
In 1987, the actor-director also testified at The Twilight Zone movie trial, offering his sincere opinion on the stand as a veteran of over a half century in film and as a member of the safety committee of the Directors Guild of America.
In later life, Cooper left his business life behind, going home to be with his wife during an illness. With typically blunt remark, "I'm sixty-seven, and worked sixty-four years."  According to IMDb, the following remarks were made by the actor when musing about his career as an actor.
"Sometimes I'll wake up in the middle of the night and I'll hear a voice that sounds familiar…my wife has fallen asleep with the tube on, and I'll finally start recognizing the dialogue, look up, and Jesus Christ, it's me at 14, or 12, or 9, or whatever. Sometimes I'll sit there and watch it and I can tell myself what's coming next . . . I remember the dialogue, the scene and the set very well, and then there'll be a part of the picture I never remembered at all. Because there were times as a kid, as a teenager especially, when I'd be terribly occupied with what I was doing–with my boat, or on a circuit of rodeos and horseshoes, or with my car–very often on some of this stuff when I'd have to go to work. I'd just give the script a cursory glance. I had no training, and I was a quick study, so nobody knew how involved or not involved I was. But I look at that stuff now and I can see I wasn't involved, and I wasn't very good. "
Jackie Cooper was wrong. He wasn't just good. He was endearing.  And he was a real grown up.
[wpvideo CdOXzX85]
Sources:
Actor Robeson Given Star, Lodi News-Sentinel, April 10, 1979.
Bellows, Jim, Gardner, Gerald, 80: From Ben Bradlee to Lena Horne to Carl Reiner, Sourcebooks, Inc., 2007.
Cary, Diana Serra, Hollywood's Children: An Inside Account of the Child Star Era, Southern Methodist University Press, 1997.
Cooper, Jackie, Kleiner, Richard, Please Don't Shoot My Dog: The Autobiography of Jackie Cooper, Morrow, 1981.
Thomas, Bob, Former Child Star, 'Superman' Actor Cooper Dies, Associated Press, May 7, 2011.
Robeson's Star Heats Up, The Press-Courier, July 18, 1978.
__________________
Upcoming Jackie Cooper Films Scheduled on TCM may be found here