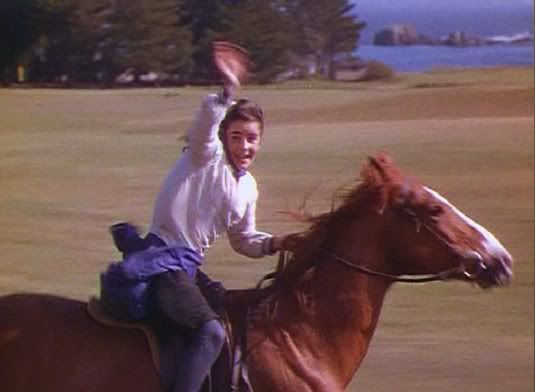 "I want it all quickly 'cause I don't want God to stop and think and wonder if I'm getting more than my share." – Elizabeth Taylor as Velvet Brown in National Velvet (1944)
A blur of thousands of words and pictures began to tumble out of every medium as soon as news of Elizabeth Taylor's death at age 79 was announced on March 23rd. I know that the most noteworthy features of this performer's life are the many adult roles she played with skill (on screen and off), her remarkable beauty, durable, often deliciously excessive glamour, the ups and downs of her not-so-private life, and ultimately, her pioneering charity work to assist those with AIDS. People will naturally mention her two Oscars. One was awarded for her tart with a heart in the often ludicrously steamy Butterfield 8 (1960)–making up for the Academy's neglect for her fine work in Cat on a Hot Tin Roof (1958)–and her well-deserved Best Actress Award for the harrowing and truthful characterization in Who's Afraid of Virginia Woolf? (1966).
To me, however, Elizabeth Taylor is cherished in memory for her extraordinary work near the beginning of her career, when she gave herself completely and unselfconsciously to the role of Velvet Brown, a dreamer, whose love of horses seems to border on a pagan devotion deeper than civilized analysis can ever explain away. All of the entertaining blather surrounding this "last great star" falls away when watching National Velvet (1944), a beautifully crafted product of the studio era at its height. This role prompted the already accomplished rider (Elizabeth Taylor's father had taught her to ride at the age of 4) to train rigorously each day and, with the guidance of her ambitious mother Sara, prompted the tiny girl to try to grow three inches to be an acceptable height for producer Pandro S. Berman (lifts in her shoes and some natural growth helped a bit).
Bewitched by the equestrian allure of the Bagnold story, Taylor plastered her room with horse-related images and paraphernalia. The slight girl also sustained a back injury during riding for this movie that would plague her for the rest of her life. Despite any of the background pressures, this film appears to be one of the last times that the then 12-year-old actress seemed so blissfully unaware of her own "rapturous beauty," as critic James Agee acknowledged in his review of the film at the time of its first release. Perhaps the openness of Taylor's heartfelt performance in this movie was the result of careful tutoring or simply reflected her own well-documented love of animals, but I suspect that it may also have been because, as an outstanding part of a strong cast, she was treated for what she was rather than for how she looked, allowing her inner spirit to soar on screen. As an adult Taylor later tried to explain it, "National Velvet really was me."
Taylor's budding loveliness is there in miniature form, imbued with a girlish ardor grounded in naturalism as she gamely rode toward stardom. In the process she gave one of the great performances by a child actor in the history of movies in this simple-hearted, but psychologically complex role.  We know it is a fairy tale set in an idyllic English village where the middle child in the Brown family, headed by a butcher and his plain-spoken wife lives more inside her head than the real world around her. No working class, rural English schoolgirl ever won a half-wild, untrainable horse in a lottery, groomed him for the Grand National steeplechase with a disgraced jockey, and then ran the race herself disguised as a boy, winning the day and the world's fickle heart–even though she was denied the actual prize because she collapses just before entering the racetrack enclosure and because of her sex, a fact that goes unquestioned in the 1920s period context of the tale. But we believe anything is possible because, like a soul possessed, Elizabeth Taylor's Velvet dared to dream so fervently, with a childish faith and a radiance that was more than coaching, good editing or a glossy trick of the Technicolor photography–confirming that the connection between the girl and the camera begun earlier in films such as Lassie, Come Home (1943) and her haunting portrayal of a fellow orphan in Jane Eyre (1943) was not a fluke.
Above: Elizabeth Taylor, with King Charles, the horse who played the Pie in National Velvet (1944). The horse, a grandson of Man o' War, was given to the actress after the film was released.
The actual story for this film was based on the 1934 novel by Enid Bagnold, who wrote the book for adults, though it has become a childhood classic that has never been out-of-print. The National Velvet project had been around Hollywood for almost a decade, at RKO and then at Paramount, whose films were more attuned to a sophisticated, European-oriented subject matter than MGM, which later acquired the rights to the story. Two mind-boggling auditions were allegedly made at that studio for the leading role of Velvet Brown by a thirtyish Katharine Hepburn and Margaret Sullavan. Younger actresses Susanna Foster and Gene Tierney had each been seriously considered for the role as well. As a teenager in the 1930s, Leatrice Gilbert Fountain, the daughter of John Gilbert and Leatrice Joy, was signed by MGM to film the story with her in the lead. While preparations for the film to be made on location in Britain dragged on, the Second World War broke out and the youthful actress eventually grew too tall for the part (and avoided one MGM exec's clumsy attempt to offer "assistance" to her career on a quid pro quo basis).
A script was eventually crafted by Theodore Reeves and Helen Deutsch, who centered the story on the nucleus of the Brown family, with the pragmatic father played with a mixture of bluster and grace by Donald Crisp, a man understandably in the thrall of his strong wife, played by Anne Revere, who won a Best Supporting Actress Oscar for her role. This quietly empathetic and matter-of-fact, observant woman has a philosophical outlook on life. As Velvet observes about her, "You don't think like us. You think way back here," (touching the back of her head). The mother is able to understand an improbable goal's hold on her daughter's heart, since she too had once had an unlikely dream–swimming the English Channel when she was young. This insight leads Mrs. Brown to support her daughter's aspirations, giving her the prize money she won in her championship swim long ago, while explaining to her that "We're alike. I, too, believe that everyone should have a chance at a breathtaking piece of folly once in his life. I was twenty when they said a woman couldn't swim the Channel. You're twelve; you think a horse of yours can win the Grand National. Your dream has come early; but remember, Velvet, it will have to last you all the rest of your life." These scenes between the mother and daughter are among the best in the film, played with a muted sympathy and gravity that prevents too much sentiment from overwhelming the moment.
The other children in the Brown family are portrayed briefly, but given their own distinctive individuality. These characters included Edwina, the eldest sister played by Angela Lansbury, (in her second film), who appeared as a character engrossed in her own dramatic adolescence, Juanita Quigley as Mally, the gently eccentric sister devoted to her canaries, who chooses a number for a raffle ticket by explaining that she sees the number 119 is "on my brain in letters of fire!" Jackie 'Butch' Jenkins, a bit of a rising star at MGM after appearing to good effect in The Human Comedy (1943) as Mickey Rooney's brother, plays the odd, insect-obsessed baby of the family, who brings his morbid observations and willful contrariness to each of his scenes. The interactions of the siblings, often expressed realistically as bickering, also includes amusing scenes when Donald (Butch Jenkins) has his toenails painted bright red by his sister Edwina (Lansbury) while Mally (Quigley) reads a torrid love story from a magazine. Underneath this behavior, the closeness of the siblings and the family as a whole is beautifully captured as the story focuses on the suspenseful aspects of Velvet's quest to pursue glory.  The appearance of familiar character actors such as Norma Varden as a kindly teacher, Reginald Owen as the Pie's original owner, and Arthur Shields as the suspicious Mr. Hallam add a coziness to the story. The lived-in look and contradictory "storybook idealized reality" of the interior settings in the film add another subtle layer to the movie, giving it a burnished look, intercut between the obvious, but beautifully detailed studio sets and location filming in the Monterey, California area. In recognition of this achievement, the work in National Velvet was Oscar nominated for Best Art Direction-Interior Decoration in Color, with superb quality creative craftsmanship evident from Art Director Cedric Gibbons, assisted by Urie McCleary, set decorators Edwin Willis and Mildred Griffiths.
Clarence Brown, a house director at MGM for decades, who had brought Valentino and Greta Garbo to romantic heights in the silent era, showed his skill with family stories in the 1940s as well. Pandro Berman, who had hoped to bring National Velvet to the screen since the '30s, approached Brown with the project while the director's previous hit, The Human Comedy was being produced. In 1968, Brown told an interviewer, "I liked the [Enid Bagnold] book very much, but I was undecided until I came to this marvelous line spoken by Velvet's mother: 'Everyone should have a chance at a breath-taking piece of folly at least once in his or her life.' The story was simple and as beautiful as that. l knew then I had to make that film."
Brown also understood that the plausibility of the film hung on translating the novel's "air of wind-swept freedom and youthful candor all the way through," as well as grounding the story in the actors' naturalistic performances.  Unlike many of the films of that period, much of the action of National Velvet occurs outside studio walls, with the blustery but picturesque coastline of Northern California as an acceptable substitute for the English countryside. This location work and the use of rich, velvety Technicolor under cinematographer Leonard Smith, and the warmth of the performances the director elicited from his cast are among the reasons that the film has aged so well.
Brown had a gift for drawing great performances from children, often working with child actors more than once. Among those who were exceptional under his direction were Mickey Rooney (particularly in Ah, Wilderness and certain scenes in The Human Comedy), Butch Jenkins, who was magical in a nearly silent performance in The Human Comedy when confronted with a mechanical man in a window display, and Claude Jarman, Jr. who appeared in two of Brown's more memorable later films, The Yearling (1946) and his masterpiece, Intruder in the Dust (1949). When asked what gimmicks he used to elicit the wondrous performances from young actors, Clarence Brown replied quietly, "No tricks at all. I direct children as I direct adults, always trying to understand their personalities, and to make them trust me wholeheartedly. Children have a very keen mental perception. They know when you speak to them condescendingly or try to trick them into doing something."  The director's success was measured by the enthusiastic response to the movie when it opened to fine reviews and appreciative audiences during the holiday season in at the Radio City Music Hall in New York. It earned for Brown his fifth Academy Award nomination, (he would be nominated for six Academy Awards, without a win), and Oscars for Anne Revere (Best Supporting Actress) and Robert J. Kern for his beautifully flowing film editing.
He also helped Elizabeth Taylor become a star by allowing the story to turn on the mercurial emotional life of Velvet Brown, whose audacious, touchingly bold spirit seems to become one with the four-legged horse whom she loves. Early on, Velvet explains her devotion to horses to an astonished young vagabond who gradually enters the life of the Brown family and is destined to help the girl achieve her dreams. The wanderer is Mi Taylor, played by 24-year-old Mickey Rooney, who gives one of his gently meticulous and beautifully restrained performances, with a modicum of bravura moments. The bitter former jockey, shares her rapport with horses, albeit reluctantly. He is awed and concerned when she confesses, "I should like to be a famous rider. I should like to hunt, ride to hounds, I should like to race, I should like to have so many horses that I could walk down between the loose boxes and ride what I choose. "  The movie might never have come together if the actress at the center of the story didn't have the ability to draw us into her dream world. Under Clarence Brown's sensitive direction, Elizabeth Taylor reminds us of that half-forgotten, magical state that we knew once before adolescence, time and worldly concerns brought us down to earth. Taylor's Velvet lives in a kind of world in which the borderline between the natural world and the interior life of an imaginative child was hazy or forgotten, particularly when alone with her own racing thoughts.
Above: Velvet Brown (Elizabeth Taylor), cantering away into her imagination in National Velvet (1944).
In this film, the youthful actress took center stage, illuminated with an intense, unworldly, translucent glow when speaking about the animal called a "murderous pirate" by her previous owner, though Velvet renames the horse she loves "the Pie." Whether pretending to ride a horse while scampering down a path alone or to train an imaginary steed just as she gets ready for bed at night, she is alive with what some Freudian-influenced critics termed "near-hysterical emotion," with "wish fulfillment" masking "obsession, conversian mania, [and] pre-adolescent sexuality."  Those undercurrents are there, no doubt, but the expression of them is treated with such sensitivity that the film still allows the headstrong central character and her developing sense of self to continue to grow throughout the movie, escaping formulas and categories, especially after her race is run and the world crowds in to her family offering Velvet and her horse money and glory.
Tempting and lucrative offers from "the cinema, the American wireless, musical halls" poured in, exciting Mr. Brown. Velvet, however has returned from winning the Grand National with shorn hair, as well as a calmer and more mature demeanor (despite having to be reminded to wear her retainer on her teeth). When asked by her parents if she would like to leave home and take up these offers, she asks if the people want the Pie "to stare at? Do they want to pretend he's human and knows how to be funny?" Her voice trembling, she blurts out "I can't drag him about for people to stare at. If you could see what he did for me, he burst himself for me! When I asked him he burst himself more. I asked him again and he doubled it…I can't help it…I'd sooner have that horse happy than go to heaven."  Her chagrined father puzzles over his daughter's blindness to opportunity, but the strength of character shown by the girl is impressive. In real life, of course, few chances for Elizabeth Taylor to turn her back on being stared at by the people ever seemed to come. Perhaps the fact that, as she once put it, "I was a breadwinner from the time that I was 10," made her immune to being at the center of attention. Or maybe, as I did earlier this week, she remembered a particularly poignant scene from National Velvet, the film that made her a star. In one of the quietest scenes in National Velvet (1944), the girl played by the young actress listens to her mother, (Anne Revere) give her some wise advice about life and about the race that her daughter hopes to enter and win with her beloved horse.  "Win or lose it's all the same. It's how you take it that counts. And knowing when to let go. Knowing when it's over and time to go on to the next thing. "
"The next thing?" the girl asks.
"Things come suitable to the time, Velvet. Enjoy each thing, forget it and go on to the next. There's a time for everything. There's a time for having a horse in the Grand National, being in love, having children. Yes, even for dying. All in proper order at the proper time."
~~~~~~~~~
Please click here for a complete list of the Elizabeth Taylor films that will be shown in tribute on TCM on April 10, 2011
~~~~~~~~~
National Velvet (1944) is among the films broadcast on April 10, 2011. This movie is also available on DVD and can be found here.

Sources:
Donohue, Walter, Elizabeth Taylor and National Velvet, Films in Focus, January 26, 2010.
Drabble, Margaret, Upstairs, Downstairs: Margaret Drabble on Playwright Enid Bagnold, The Guardian, May 31, 2008.
Eyman, Scott, Lion of Hollywood: The Life and Legend of Louis B. Mayer, Simon and Schuster, 2005.
Farber, Manny, National Velvet, The New Republic, Feb. 5, 1945.
Rinaldi, Oscar, Clarence Brown, Films in Review, Oct., 1990, Vol. 41 Issue 10.
Steen, Mike, Hollywood Speaks: An Oral History, Putnam, 1974.
The New Pictures: National Velvet, Time Magazine, Oct. 5, 1944.
Walker, Alexander, Elizabeth: The Life of Elizabeth Taylor, Grove Press, 2001.