"If one does not love the films of Howard Hawks, one cannot love cinema". – Eric Rohmer
We had a big crowd for my last outdoor cinema screening of Only Angels Have Wings (1936). There must be something about its story of crazy pilots flying dangerous missions in the craggy mountains of Columbia – and the women who love them (the men, that is) – that still pulls 'em in. Of course, it doesn't hurt to have great dialogue and acting all bow down to the service of a timeless narrative, full of passion and deeper meanings and then wrapped up and packaged with expert pacing; so much so that it delivers the goods straight into your ocular veins and leaves the brain totally dazed, blissed out and satisfied. In fact, that classic film, directed by Howard Hawks and starring Cary Grant and Jean Arthur (and Richard Barthelmess… and Rita Hayworth… and… and… ), got such an enthusiastic ovation that I've decided to follow it up with another Hawks film: Twentieth Century (1934).
Another reason for this choice is that my transitory guest of honor this weekend will be Deirdre Schwiesow from Alien Abduction (2005), who will probably want to kill me for even mentioning said credential but, anyway, she recently moved from L.A. to N.Y., is dropping in for the weekend, and since we were both thespians in high school this just seemed the right fit for the night because Twentieth Century is all about acting. The other criteria was that it be available to me on 16mm and be directed by Howard Hawks. Twentieth Century fits all these requirements and is thus set to be screened in my backyard this Saturday night.
Often trumpeted as one of the funniest comedies of the 1930′s, Twentieth Century is the story of Oscar Jaffe (John Barrymore) a Broadway impresario who wants to groom Mildred Plotka (Carole Lombard), a chorus girl, for theatrical stardom, and he even anoints her with a new stage name: Lily Garland. His plan works too well, however, and she skips out for Hollywood. When Jaffe's career plummets, fate finds him and his one time protégé sharing the same train: the Twentieth Century Ltd. As that train travels from Chicago to New York, Jaffe does everything he can to convince Lily Garland to help stage his big comeback by starring as Mary Magdalene in his production of the Passion Play.
Just now (literally – I just now answered the door and took a small break from writing this) my friend Kris Kerr dropped by while he was in the neighborhood and had in his possession a book he checked out from the public library titled Howard Hawks: The Grey Fox of Hollywood, authored by Variety's chief film critic Todd McCarthy. This was not a magical coincidence, as he was attendant to my last screening of Only Angels Have Wings. This is simply testimony to the power that Howard Hawks still wields on those lucky viewers who come across his work. Naturally, I deprived him of his resources so as to share with readers here some choice excerpts relating to Twentieth Century, all taken from McCarthy's book.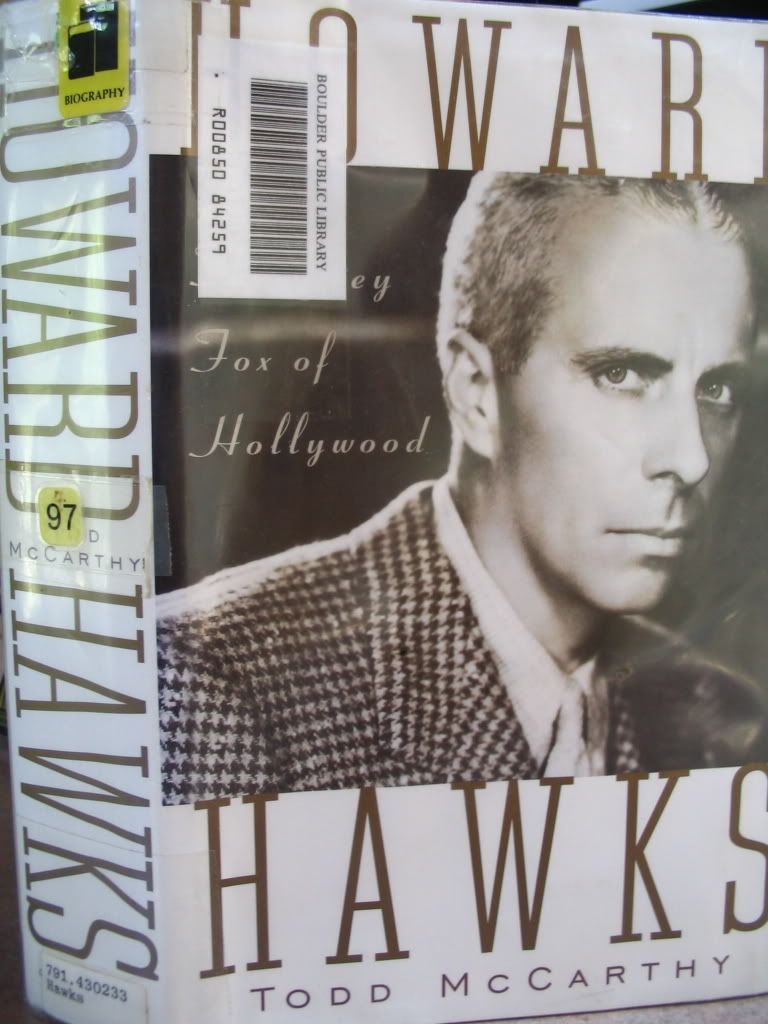 On how Twentieth Century fits into Hawks' oeuvre:
After his exasperating year and a half at MGM, Haws knew he needed a fresh start, and Twentieth Century marked the beginning of several things for Hawks, all of them very significant for his career. Since sound came in, he had directed six dramas – some heavier than others, all more brutal and harsh than the norm, with gangsters, prisoners, heavy drinkers, doomed soldiers, reckless racers, and desperate fishermen as their subjects. With the exception of a grafted-on Joan Crawford, women had not been central to these films, and while Ann Dvorak and Zita Johann had offered characterizations that were not without interest, it couldn't be said that Hawks showed any particular touch with actresses or female characters up to this time.

Nor had he done an outright dialogue comedy. All of Hawks's experience had taught him the value of injecting humor where it might least be expected, but only in Fig Leaves in 1926 had he played a picture strictly for laughs. But with Twentieth Century, Hawks would help introduce what became known as a new genre to the screen – the screwball comedy, in which attractive players, one of them a major star, horsed around and bounced off one another in a manner normally expected only of comedians or supporting types.
On the writers:
It was one of the rare pictures on which the screenwriters made significantly more than the director; (Ben) Hecht and (Charles) MacArthur sold the play to Columbia for $25,000 and received another $14,525 for their adaptation. (Hawks had agreed to make the picture for $25,000 during a paid vacation he finagled from MGM.)…

Adapting the play wasn't just a simple matter of opening it up and inventing some new locations (almost the entire play takes place during a sixteen-hour train trip). The work had its origins in a play called The Napoleon of Broadway written by a press agent named Charles Bruce Milholland and inspired by his former boss, the lordly theatrical producer Morris Gest. Milholland gave his manuscript to another Broadway titan, Jed Harris, who identified with the leading character but felt it wasn't a professional play. For a price, he convinced Milholland to let him give it to Hecht and MacArthur, from whom Harris wanted another play. Within three weeks, the speedy team delivered the first two acts to Harris, who could now see that the character of Oscar Jaffe was based on Gest, David Belasco, and naturally enough, him.
On Barrymore:
With a solid first draft in hand, Hawks returned home, where his critical challenge was convincing John Barrymore to play the part. The matinee idol of the 1920′s and the most famous Hamlet of his generation, Barrymore had already begun his descent into broad self-caricature and erratic, alcoholic behavior. He wasn't a major box-office name but he was still a star, the key to (executive producer) Harry Cohn's desire to make the picture. Barrymore had had a tempestuous affair with Mary Astor shortly before she married Howard's brother Kenneth, but Hawks had never met the actor before heading up to his imposing mansion to tell him about the story and the role. As Hawks related it, when the actor asked why Hawks wanted him for the part, Hawks said, "It's the story of the biggest ham on earth and you're the biggest ham I know." Barrymore accepted at once and considered it "a role that comes once in a lifetime," deeming the film his favorite of the sixty-odd pictures in which he appeared.
On Carole Lombard:
Carole Lombard, who was born in Fort Wayne, Indiana, not far from Goshen, was Howard Hawks's second cousin. But even though she had moved to California at age six and worked for Allan Dwan in 1921, when he and Hawks were close, Hawks had never seen much of her, and he suspected, on the basis of her lackluster screen credits to date, that she was probably a bad actress. However, much as had happened with Ann Dvorak, Hawks saw Lombard "at a party with a couple drinks in her and she was hilarious and uninhibited and just what the part needed." It is with Lombard that Hawks truly began "discovering" young actresses, shaping their career personalities and fashioning what became known as "the Hawksian woman," an independent type with a mind of her own who would stand up to men and was not content "to sit around and wash dishes." Appropriately enough, Hawks's career as a Svengali commenced on a picture depicting the very same sort of relationship between a dominant man and a woman he remakes into a star. Just as significantly, it was the first time Hawks dared to pit a virtual beginner against an accomplished veteran in two equal leading roles; just as it would in later years, with Bogart and Bacall, and Wayne and Clift, Hawks's gamble paid off. It is a tribute to his directorial control and brilliance with actors that he could simultaneously handle the chores of keeping John Barrymore in line, which many directors were unable to do, and help Carole Lombard find the key to liberate her own personality on the screen, clinching her career from then on.
On how the film was received upon its first theatrical run:
Filming wrapped up with scenes in Lily's apartment on Saturday, March 24, after twenty-seven days of shooting, six days over schedule. Two added scenes were shot in mid-April, and on May 3, Twentieth Century opened at Radio City Music Hall in New York. The critics were generally appreciative of the film's sophistication, expert playing, and direction. But Variety's prediction that the film was "probably too smart for general consumption" was born out by bad business so lackluster that the film lasted only one week at Radio City. As Hawks noted, "The public wasn't ready for seeing two stars act like comedians the way those two did."
Potential viewers who don't mind waiting a couple months can watch Twentieth Century on TCM later this month (October 6th and November 30th), just check your local listings for exact times.