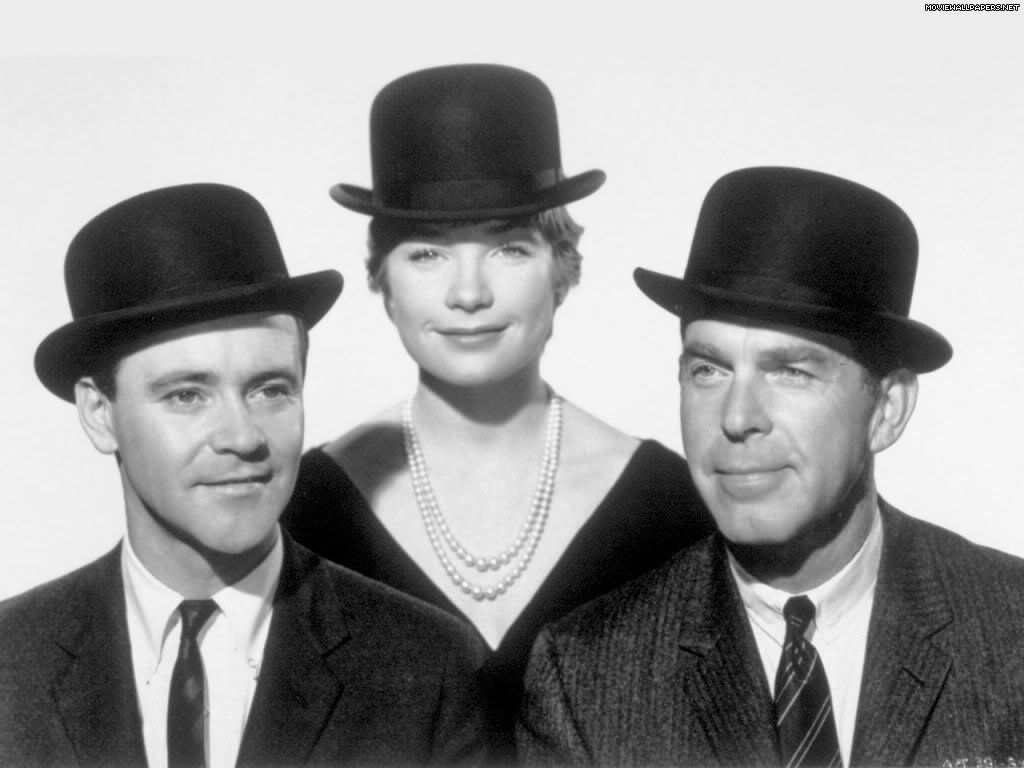 "I always liked you until I saw you in 'The Apartment.' Now I hate you."
On November 6th, 1991 the New York Times published an obituary by Peter B. Flint stating that "Fred MacMurray Is Dead at 83… Billy Wilder persuaded the affable actor to play the rotters in Double Indemnity and The Apartment to surprise and shock moviegoers. He did. According to a possibly apocryphal anecdote, Mr. MacMurray was walking in Disneyland one day when an elderly woman approached him and declared: 'I always liked you until I saw you in The Apartment. Now I hate you.' She is said to have then pummeled him with her purse and stalked off."
No surprise there. The Apartment (1960) starts out with the kind of flair for dialogue that Billy Wilder is commonly known. We see the Big Apple's skyline and hear a narrator say that: "On November 1st, 1959, the population of New York City was 8,042,783. If you laid all these people end to end, figuring an average height of five feet six and a half inches, they would reach from Times Square to the outskirts of Karachi, Pakistan. I know facts like this because I work for an insurance company – Consolidated Life of New York. We're one of the top five companies in the country. Our home office has 31,259 employees, which is more than the entire population of uhh… Natchez, Mississippi. I work on the 19th floor. Ordinary Policy Department, Premium Accounting Division, Section W, desk number 861. "
This sets the tone for a good time. But within a few minutes the material gets pretty lascivious. And once an hour goes by it gets pretty grim, especially for a comedic farce. Given its main theme, which makes it seem like every married guy on the planet has got a mistress on the side, I'm surprised Wilder wasn't burned at the stake.
"51 West 57th!"
That's the address for C.C. Baxter (Jack Lemmon). Baxter has to share his apartment with four department superiors who like to use his place for their dalliances. What's in it for Baxter? Well… perhaps a promotion. His four superiors have been talking him up with the big boss, Mr. Sheldrake (Fred MacMurray). The problem is that Sheldrake wants in on the action. And his action involves the sweet elevator girl, Fran Kubelik (Shirley MacLaine), a woman that Baxter is sweet on. Lemmon is clearly the star, MacLaine shines brightly, but MacMurray's character plays a pivotal role as the main catalyst for the whole narrative engine. It is Sheldrake who pushes Kubelik to the edge, engages Baxter in larger dilemmas, and then interferes again in the third act.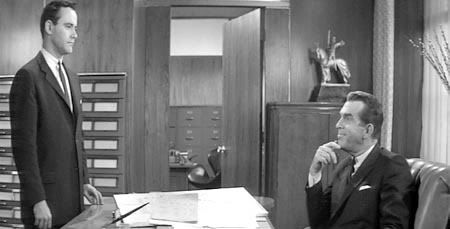 Seeing The Apartment again I can't help but reflect on how Sam Lowry (Jonathan Pryce) in Brazil owes just a bit to Baxter. They are both bureaucrats, small cogs in the machine, who are trying everything they can to climb the social ladder. They both endure their travails during the Christmas season, they both have amoral bosses whom they appease with aplomb, and they both fall madly in love with a woman that contributes to their fall from grace. These similarities aside, it's apples and oranges, especially toward the end. But I think their characters strike a chord within many of us precisely because they excel at their job of representing hard-working grunts everywhere who are neither evil or heroic, at least not at first. They are simply good-natured human beings who are overly accommodating (but, again, this only at first).
Fred MacMurray's character, on the other hand, well, let's just say that Sheldrake is wise enough to know better and yet, despite (or because of?…) his success he clearly does the wrong thing most of the time and only embarks on making an honest woman of Kubelik when forced to do so by his angry wife. His first appearance in the film clocks in just shy of the half-hour, and within moments he performs an alchemy of character that changes him from being a man of seemingly impeccable moral fortitude (when he threatens to abolish Baxter should he be currying favors with staff in any unlawful manner) to changing into the exact same kind of lecherous and immoral type that Baxter has already been dealing with. But Sheldrake has more power. And Sheldrake has strings attached to the girl of Baxter's dreams. And at the hour mark those strings get snapped with the most careless of ease when Sheldrake tells Kubelik that "I didn't know what to get you, so… here's a $100 dollars." Cue the overdose.
I was surprised to see that my favorite exchange was not included as part of the "quotes' section on IMDB, so I put it below. Anyone who's ever been deeply in love without having the feeling reciprocated can certainly understand:
K: I wonder how long it takes to get someone you're stuck on out of your system? If only they'd invent some kind of pump for that.
B: I know how you feel Mrs. Kubelik. You think it's the end of the world, but it's not. I went through exactly the same think myself.
K: You did?
B: Well, maybe not exactly the same. I tried to do it with a gun.
K: Over a girl?
B: Worse than that. It was the wife of my best friend. Man, I was mad about her. But I knew it was hopeless and I decided to end it all. I went to a pawn shop and I bought a .45 automatic and I drove up to Eaton Park (sp?) … do you know Cincinnati?
K: No I don't.
B: Well, anyway… I parked the car and I loaded that gun… you read in the papers all the time that people shooting themselves? Believe me, it's not that easy. I mean, how do you do it? Here? (Points to head.) Here? (Points to mouth.) Here? (Points to heart.) Do you know where I finally shot myself?
K: Where?
B: Here. (Points to knee.)
K: In the knee?
B: While I was sitting there trying to make up my mind a cop stuck his head in the car because I was illegally parked and I tried to hide the gun under the seat and it went off – pow!
K: (Laughs) That's terrible!
B: It was a year before I could bend the knee. But I got over the girl in three weeks. Still lives in Cincinnati. Has four kids and gained 20 pounds. Sends me a fruitcake every Christmas.
BTW: Just as an aside – Paul Douglas was originally assigned to the Fred MacMurray role but died two weeks before filming began. The film won five Oscars for Best Picture, Director, Screenplay, Editing, and Art Direction/Set Decoration.