(I've amended this post to correct errors. A tip of the hat to the alert readers that brought them to my attention. I not only regret the errors, I am mortified. Having seen this film so many times I should have known better.)
I'd like to thank RHS for his previous blog marking the passing of Stan Winston. It was Winston's work on many spectacular and big-budget films that probably reached his widest audience. So it is ironic, for me, that the first time Winston's work blew me away was during a poorly received theatrical screening of John Carpenter's The Thing (1982).
(Note: Actually, as noted by one responder, most of the effects were done by Rob Bottin and there were an army of people working on the special effects. IMDB notes that "Much of the creature work in the scene inside the dog cage was done by Stan Winston and his crew as Rob Bottin was suffering from exhaustion at the time due to his immensely heavy workload." Maybe this is why I had Winston on my mind as the key guy here, but it was a careless goof on my part to lionize him when Bottin was the one suffering from exhaustion due to his work on the film.)
I was just 15-years-old, alone, and psyched that I got away with buying a ticket for an "R"-rated film without getting carded, especially since a mouth-full of braces certainly made me look my age. I made my way into the theater, sat down, and as the lights went down, as the trailers played out, and as the movie began, I couldn't help but notice: I was the only person in the movie theater. I was about the have the living bejesus scared out of me with no support group to help defray the experience.
One of the reasons the film may have bowed so poorly upon its theatrical release was that, for many fans of the Howard Hawks/Christian Nyby classic, The Thing from Another World (1951), Carpenter's remake was frowned upon and considered a vulgar gorefest. Variety dubbed it "a letdown" and added "What the old picture delivered – and what Carpenter has missed – was a sense of intense dread, a fear that the loathed creature might be lurking around any corner or behind any door." Allow me to go for the fruit here: this is sour grapes and makes the mistake of comparing apples to oranges. I love the 1951 version. So did Carpenter (remember how he even included excerpts of it, playing on the television in the background, in Halloween?)… It's okay. You can love the classic AND love the remake. I do. Let me also add that the remake totally filled me with an intense sense of dread, a fear that the loathed creature was around every corner, and behind every door. And this dread, nay, HORROR, was amplified exponentially by (ahem: Bottin, his army of workers, &…) Stan Winston's work.
Too often we hear the conventional wisdom about how "less is more" and Jaws (1975) was great precisely because Speilberg was forced by problems with his mechanical shark to show less and thus scare us more and… etc. I'm not going to argue this point and think it's true most of the time. But, you know what? Sometimes more is more. Sometimes it works. And in John Carpenter's The Thing every inspired, nightmarish, visceral, gory, detailed, creation that the special effects people shoved in my face added immeasurably to my terror. To my adrenaline-pumped heart it was akin to the force of being confronted by an H.P. Lovecraft phantasmagoric monster, screaming spittle that permutates into a giant slobbering maw, surrounding me with devouring hunger. It was a mish-mash of hallucinatory nightmares made gloppy, sticky, and real by bucketloads of guts and moving fleshy parts the likes of which I'd not seen before. That kind of experience doesn't happen to me very much anymore, especially with everyone using lifeless CGI graphics that leave performers reacting to sock-puppets in front of green screens.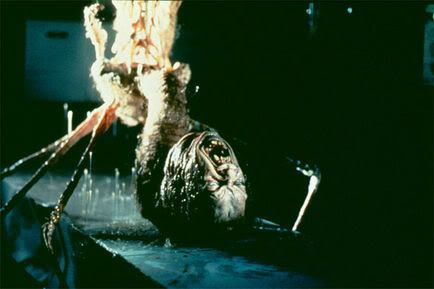 In John Carpenter's The Thing I knew the gloves were off when the first frozen corpses are discovered. I had no idea what was going on when the possessed dog splits open into a flying mass of deadly tentacles. I'm pretty sure I didn't blink at all and was gripping my chair's armrests pretty hard trying to figure out what all I was seeing. But the ante just kept getting raised with chests opening, arms disappearing, a head growing crab-like legs and trying to scuttle away, and that simply amazing scene with the blood tests that has Garry, who has been tied to a couch right next to the man-eating monster, use a few seconds of calm to say: "I know you gentlemen have been through a lot, but when you find the time, I'd rather not spend the rest of this winter TIED TO THIS FUCKING COUCH!"
(Here is where I screw the pooch again, even more than a tentacled alien, by referring to the score as written by Carpenter when, as another alert reader is quick to point out, it's Ennio Morricone. I swear I knew that, but I wrote the post in haste before catching a plane and as I played the music in my head I couldn't help but think of Carpenter. On this point, IMDB notes that "This is the first of John Carpenter's films which he did not score himself. The film's original choice of composer was Jerry Goldsmith, but he passed and Ennio Morricone composed a very low-key Carpenter-like score filled with brooding, menacing bass chords."
Ennio Morricone's score is fantastic and all the actors deliver great performances. It's a great collaborative effort all the way around, not simply a film to be praised for excellent Grand Guignol.
Despite it's poor box-office opening (Carpenter lamented his bad luck at going up against another alien film that would suck all the air out of the room: E.T.), the film has managed to drum up a life of its own, and anyone who works at an arctic station has seen it enough times now to know it by heart. I last screened John Carpenter's The Thing on March 10th, 2007, as part of my film program. It was a beautiful, mint-condition, and virgin wet-gate print that came from Universal. Many people in the the audience were academics, scientists, and researchers who had done work in arctic stations. But there were also a surprising number of newbies that arrived, prodded by other fans. I plopped down in the front row with a handful of friends and, despite having seen it over a dozen times, and despite being surrounded by friends, it still got under my skin and gave me the creepy-crawlies. With some sadness I now wonder if that beautiful print was one of the casualties of the recent Universal studios fire that destroyed so many other films? It would appear The Thing has finally and truly been devoured by fire.