Fey. Twit. Nebbish. Pantywaist. Namby-Pamby.
These are some of the "nicer" terms that I was reminded of when my fellow blogger HighHurdler mentioned that Outward Bound (1930), the first talkie with Leslie Howard, will be broadcast on TCM on Mar. 27th at 9:00AM ET. In recent years, I've seen the above terms applied to one of the biggest box office names on Broadway and in the movies between the two world wars by today's observers. Sure, tastes change. Movies got grittier, notions of masculinity became coarser, and in many cases, movies became more realistic. These cultural shifts seem to have trapped the actor Leslie Howard—in celluloid, as it were, especially by those who vehemently reject the ineffectual character he played in Gone With the Wind (1939).
Nothing I write can change the impression made on millions by Ashley Wilkes, the appealing yet wistful moral weakling whose image fills the imagination of a naïve sixteen year old Scarlett O'Hara (Vivien Leigh), especially after he lies just out of her reach by becoming the hubby of a sedate cousin, Melanie Wilkes (Olivia de Havilland). Howard shared a negative viewpoint of the entire production when he signed up to appear, and his only true motive for taking the part was the money and the promise of becoming a producer under the aegis of the Selznick organization, (the result was a much better role for Howard as co-producer and star with Ingrid Bergman in Intermezzo: A Love Story [1939]). Howard had already co-directed with Anthony Asquith a fine adaptation of George Bernard Shaw's play, Pygmalion to critical acclaim, (though Howard's stubbornly cerebral characterization does pale a bit next to the role as enacted by Rex Harrison in the ultimate musical made from the same material by Lerner and Lowe with My Fair Lady).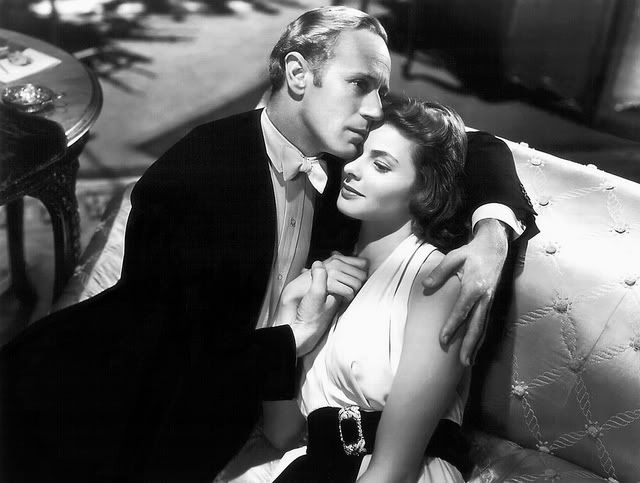 When it came to GWTW, however, Leslie Howard thought that he was ill-suited for such an unplayable part, going so far as to write to his daughter during pre-production (when he had to grow his hair long, and submit to having it burnished), that "I hate the damn part. I'm not nearly beautiful or young enough for Ashley, and it makes me sick being fixed up to look attractive." As filming neared, the actor brooded that his Confederate uniform must make him look like the gay "doorman at the Beverly Wiltshire- a fine thing at my age."


I've even encountered GWTW devotees who are irked—at a distance of nearly 70 years—by the actor's admitted disdain for the role. That revulsion for Ashley's character didn't just begin when Leslie spotted the stilted dialogue his character was saddled with by the many screenwriters who adapted it. Howard had emerged in the twenties and thirties as one actor who managed his career with some thought. He really didn't want to be a performer anymore, but I think he gave more to the part than he knew.
Having given Gone With the Wind a pass for several years, when it was shown on TCM recently, I watched it once again, (well, okay, truthfully, I was also working on my taxes while I did it, but the travails of the Civil War certainly threw my problems with math into perspective and it was a good distraction). Seen again, his role as the idealistic, philosophical Wilkes, thrust by history into a new world, and filled quite often with some justifiable self-loathing, is more complex than I remembered, as when he discerns–with some pain, the nurturing strength he derives from Scarlett. Others sometimes find Howard's aristocratic Southern accent is closer to Mayfair than Atlanta. That aristocratic edge in his pear shaped tones seems more acceptable when one realizes that many of the scions of the antebellum South were educated by English tutors and several would have gone to Britain to be educated to rule over their plantations.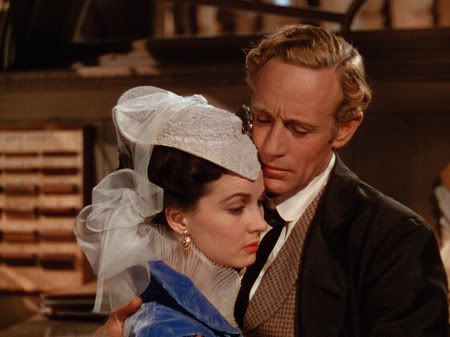 The real problem with the Wilkes character is that it hands an actor who exuded intelligence an impossible task: make a man likable whose wishy-washy demeanor is in sharp contrast with the brusquely forward thinking Rhett and the determined and willful Scarlett, and, for that matter, the moral steadfastness of Melanie. Howard was asked to make a man believable who behaves like a milquetoast in the face of pretty tough odds. Yet as a youngster, when viewing GWTW in one of its last showings in a movie theater, I was truly beguiled by Ashley Wilkes! Seeing this film again after many years, something seems to have changed. It couldn't be me who's changed, surely?
On balance, I actually think Leslie Howard was a good choice for the part of Ashley, despite his own misgivings. Who else but this tall, slightly awkward figure could make an audience feel a pang of empathy for this man, representing the peculiar nobility of all lost causes, and the dislocation of many of those whose lives were upended, an aspect of the story that may have had greater resonance for Depression era audiences in the late 1930s? Even now, when we now believe that the racial, social and economic ideals that Ashley represented had to be exposed as false, the actor manages to put a hopelessly human face on a failure. Maybe that's one reason why he makes us so uncomfortable? Or maybe we just outgrew him and the story, just a bit.
The cultural fate of Leslie Howard seems an object lesson in the dramatic differences between the world before and after the Second World War. Like his contemporaries Fred Astaire, Ronald Colman and William Powell, his appeal was based on talent, hard work, and that hard to define, now all too rare quality: charm. His own brand of the elusive trait was uniquely his own. His diffident, sensitive exterior, slight stammer, a touch of the "silly ass Englishman" and that look of puzzlement that characterized his work made him appear to the world as the consummate Englishman. In reality, English-born Leslie Howard Stainer was the son of anglicized Hungarian-Jewish parents, (he took his mother's adopted maiden name of Howard when he went on the stage). Having been placed in an uninspiring job as a bank clerk due to his hardworking father's good graces, Mr. Howard had chucked it all to join the Hussars during WWI, and was invalided out of the service following being shell shocked at the Battle of the Somme in 1917. Encouraged to take up acting as a form of therapy during his recovery, he found his greatest success when he appeared in New York as "Broadway's favorite Englishman" in the '20s. He soon conquered Hollywood as well, becoming a canny businessman who worked on both sides of the Atlantic, formed his own production companies and was–and is–to some, a sensitive, intelligent actor, whose professional and personal choices still might deserve a second look by some of us.
Leslie Howard, who, after becoming Broadway and Hollywood's idea of an Englishman, had definitely outgrown these parts. As his friend and First of the Few (1943) co-star David Niven later said, Howard was "not what he seemed. He had the kind of distraught air that would make people want to mother him. Actually, he was about as naïve as General Motors. Busy little brain, always going."
Leaving American shores for good just before the outbreak of war between Britain and Germany, he put that brain to work, providing the impetus for much of the best of wartime British propaganda films, including the dandy, but seldom seen Pimpernel Smith (1941), which features Howard as the deceptively vague professor helping others to escape the Axis. In his wonderfully over the top role of the cultured author "roughing it" in the Canadian Rockies with his Picasso paintings and gramophone on hand in Powell and Pressburger's The 49th Parallel (1941), he was the embodiment of a civilized man–yet one who could and would, when provoked, overwhelm the fascist enemy of Western civilization.
But then, "appearing" to be a fop while actually being a man of character was par for the course in his career. The exploits of The Scarlet Pimpernel (1934) in Baroness Orczy's tale of the French Revolution, was the zenith of this type of character as he appeared to be–even to his wife, played by Merle Oberon–an effeminate dilettante, all the while rescuing persecuted aristocrats from the guillotine. I honestly have a difficult time enjoying this rather artificial feeling Korda film, and find that the much more sober Pimpernel Smith is both a more believable and a less distant figure. Unfortunately, The Scarlet Pimpernel is among those that is most familiar to today's viewers, and, along with GWTW, is probably responsible for his being categorized as a lightweight actor, though certainly one capable of acting in high style.
Howard's wartime work, which also included an ostensible lecture tour in neutral countries such as Spain and Portugal, led to his mysterious death at only fifty. On the first of June, 1943, the plane that held Leslie Howard and 16 other passengers was intercepted by the Luftwaffe and shot down while flying a commercial BOAC airliner route from Lisbon to London over the Bay of Biscay. Some believe that it may have been because a double for Winston Churchill, (the prime minister did fly commercially on occasion), had been spotted getting on the plane with Howard. Others think that Leslie Howard, who had been conducting broadcasts to the United States throughout the war, as well as helping to produce anti-Nazi films, was the ultimate target.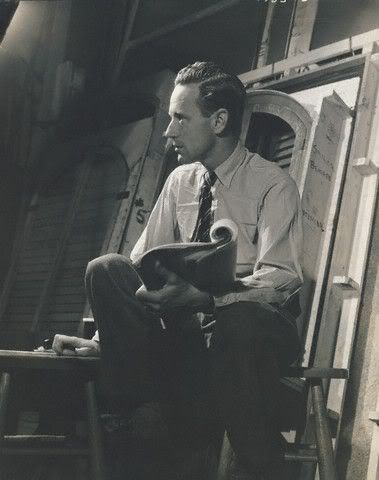 Unfortunately, in the decades since the actor's death, many of his best early films are no longer revived, broadcast nor are they all available on video. Yet, I think that some of Howard's gentle humor, wistful regret and romantic diffidence still strikes a chord with some viewers. It's noteworthy that today, in another time of tumult, war and rumors of war, several of the dramas that Leslie Howard was most closely identified with are finding new audiences once again. Just after September 11th, new stage productions were seen of Sutton Vane's Outward Bound, with its exploration of the line between life and death, and Playbills have been issued for productions of Robert Sherwood's The Petrified Forest in the last few years as well. I think that the appeal of Leslie Howard might be described in the following terms, rather than those cited at the beginning of this blog: gifted, sensitive, wry, kindly, thoughtful, loyal and brave.
Here's a brief, arbitrary list of Leslie Howard films that show him at his diffident, nuanced best. You can see upcoming dates of Leslie Howard films on TCM here :
The Petrified Forest (1936)
The film that began Humphrey Bogart's long term at Warners (thanks to Leslie Howard, who insisted on casting Bogie in the part he'd played on stage) The contrast and the kinship between the self-aware member of the lost generation, played by Howard, and the brutally honest criminal Duke Mantee (Bogart) is still interesting. Bogart and Howard share the screen with a suitably dewy-eyed Bette Davis, longing for Paris.
Best scene:
Howard reminding Duke of his promise.
Intermezzo: A Love Story(1939)
An enduring love story that is still fresh thanks
to the acting of Leslie Howard, the natural Ingrid Bergman in her premiere American film, which was a remake of a Swedish movie she'd scored a hit in earlier. If you want to see a beautifully crafted film from the studio era at its height, this is it.The film also has beautiful work from Edna Best as Howard's wife, Ann Todd as his
daughter and the fine supporting player, John Halliday, (in one of his last films).
Best scene: saying goodbye in front of the shop window.
Romeo and Juliet (1936)
MGM's sumptuous production and the middle aged stars almost overwhelm this, but Shearer has sincerity & listen to Howard's soft voice and understanding way with the poetry of the play. He wasn't a trained Shakespearean actor, (though he went on to do Hamlet–rather unsuccessfully–on Broadway, with John Gielgud and Maurice Evans also appearing in the same role that season to critical acclaim).
The Leslie Howard Nobody Knows:
These films are currently not scheduled, but may be available on VHS/DVD
The Animal Kingdom (1932):
Philip Barry's comic drama places free soul Ann Harding, materialistic wife Myrna Loy, and erstwhile boxer and houseboy William Gargan
in a triangle–no, make that a rhomboid–with publisher Leslie Howard at the acute angle of all of them. Nicely done, and deftly played mildly romantic pre-code. Gargan, btw, was an actor, who, like Bogart, would be so indebted to Howard's kindness to him that he too would name his son Leslie in honor of his friend.
Captured! (1933):
A corker of a boy's life version of POW experience in WWI. The playful and sad atmosphere of this Warner Brothers film is so reminiscent of the later Grande Illusion, I wonder if Jean Renoir saw this movie and was influenced by the story. This features good performances from Howard, Douglas Fairbanks, Jr., and Paul Lukas.
Best Scene: Leslie climbs the tower.
Berkeley Square (1933):
A romance from the imagination of John Balderston (Scenarist of The Mummy, Smilin' Through, & Prisoner of Zenda). This lovely film starring Leslie Howard & Heather Angel, takes a young man in the 1930s who travels back to the 18th century where he meets the love of his life. A film that few ever forget, it is apparently gathering dust in the Fox vaults. Like Jack Finney's Time After Time and the movie Somewhere in Time, a somber note runs through a love story. Beautifully done.
British Agent (1934):
The Time: The Russian Revolution
The Place: Moscow
Kay Francis is secretary to–get this–Leon Trotsky (J.Carroll Naish)!
Leslie Howard, whose character is based on real life envoy R. H. Bruce Lockhart, plays the acting British Consul-General at the time, who tried to persuade the Bolsheviks to stay in the war. As history students might guess, this is really a love story between Kay & Leslie with nice work from Cesar Romero & William Gargan as diplomats caught up in the Revolution. Directed by Michael Curtiz in brisk, highly entertaining fashion.
Stand-In (1937):
Tay Garnett directs Howard & a relieved-looking Humphrey Bogart in a very amusing satire about Hollywood. Leslie has a great time as an accountant/efficiency expert baffled by the movie business until savvy Joan Blondell wises him up. Bogart is very good in his comic scenes and he carries a small Scots Terrier throughout the film that was really his cute little mutt. He seems much more relaxed than usual in this film opposite his friend, Leslie Howard. This is the film in which Howard most successfully parodies his own "nebbish" qualities. This funny movie has been broadcast on TCM and needs to be run again.
It's Love I'm After (1937):
In a nice play on Leslie Howard's serious foray into Shakespeare the year before, Bette Davis & he play a battling pair of actors who alternately love and torment one another, especially in the death scene from Romeo and Juliet that opens the picture. The relationship between Howard & his valet Eric Blore is priceless. Olivia de Havilland is on board as a dumb bunny fan of Mr. Howard. Archie Mayo keeps the movie moving, even if it does sag a bit toward the middle of the farce. This does pop up on the TCM schedule sometimes.
Sources:
Behlmer, Rudy, editor, Memo From David O. Selznick, The Modern Library, 2000.
Gargan, William, Why Me: An Autobiography of William Gargan, Doubleday & Co., Inc., 1969.
Howard, Leslie Ruth, A Quite Remarkable Father, Longmans Green, 1960.
Howard, Ronald, In Search of My Father: A Portrait of Leslie Howard, St. Martin's Press, 1984.
Morley, Sheridan, Tales From the Hollywood Raj, The Viking Press, 1983.
Sperber, A.M. & Lax, Eric, Bogart, William Morrow & Co., 1997.
The Guardian reports that family movies have been found in the basement of

Leslie Howard

's daughter,

Doodie Stirling

.
The documentary filmmaker
Tom Hamilton
, who has been struggling to make a film about the actor for some time, revealed this news to the press. While some of the film was disintegrated there are other black and white and color films that Mr. Hamilton described as razor sharp images of Howard flirting with Myrna Loy on the set of
The Animal Kingdom
, visiting with Douglas Fairbanks, Jr. and Joan Crawford, a polo match, and images of young
Cary Grant, Gary Cooper
and
Mary Pickford
.
As Mr. Hamilton said, "You get a sense of the real human being. He's quite playful and warm in a way you don't see in his films." You can read more about this discovery
here
. Below is a video that
Tom Hamilton
posted on youtube to try to interest investors in helping him complete his
Leslie Howard
documentary. I hope that more investment and grant money comes his way now!
[wpvideo FdcSubb4]